TRAINING MACHINERY DIAGNOSTIC : Vibration Information and Fundamentals of Rotating Machinery Diagnostics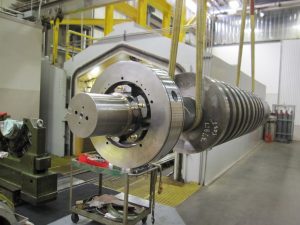 DESKRIPSI
People will learn to read and interpret vibration data plots and to recognize common rotating machinery malfunctions. Students will develop these abilities by gaining understanding of the fundamental principles that govern rotating machinery vibration. Application of these principles will enable students to understand the basic root causes of machinery malfunctions and their corrective actions. Multiple hands-on labs will give students opportunity to practice their skills using real machine case histories and lab stations equipped with rotor kits and advanced diagnostic instruments. See Outline for more.
TUJUAN
To provide the knowledge and skills to better operate, maintain, manage, diagnose and design rotating machinery using vibration information and fundamentals of rotating machinery diagnostics.
MATERI
OUTLINE MATERI :
1. The Fundamentals of Vibration
• Basic Vibration Signal
• Displacement / Velocity / Acceleration
• Vibration Vectors
• Frequence
• Amplitude
• Phase
• Vibration of Machines
• Phase Measurement Workshop
2. Interpreting Vibration Data Plots
• Steady State Plots: Timebase, Orbit, Average Shaft Centerline Plots
• Start-up and Shutdown Plots: Bode, Polar, APHT
• Spectrum Plots
• Trend Plots
• Vibration Plot Workshop
3. Static and Dynamic Rotor Response
• The Rotor System Model and the Forces Acting on the Rotor
• Dynamic Stiffness and Rotor Behavior
• Single Plane Balancing
• Single Plane Balancing Workshop
• Modes of Vibration
• Anisotropic Stiffness
4. Introduction to Machinery Malfunction Diagnosis
• Unbalance
• Misalignment and High Radial Loads
• Rubs and Looseness
• Fluid-Induced Instabilities (Oil Whirl and Oil Whip)
• Shaft Cracks
PESERTA
Rotating equipment engineers, operators, vibration analysts and technicians, supervisors and managers responsible for operation, maintenance and reliability of rotating equipment, OEM designers of rotating equipment who require knowledge of the root causes of vibration and the mechanisms that lead to harmful malfunctions
Jadwal infotraining-indonesia.com tahun 2020 :
21-23 Januari 2020
18-20 Februari 2020
17-19 Maret 2020
14-16 April 2020
16-18 Juni 2020
14-16 Juli 2020
11-13 Agustus 2020
8-10 September 2020
13-15 Oktober 2020
10-13 November 2020
15-17 Desember 2020
Jadwal tersebut dapat disesuaikan dengan kebutuhan calon peserta
Lokasi Pelatihan infotraining-indonesia.com:
Yogyakarta, Hotel Dafam Malioboro (7.250.000 IDR / participant)
Jakarta, Hotel Amaris Tendean (7.750.000 IDR / participant)
Bandung, Hotel Golden Flower (7.750.000 IDR / participant)
Bali, Hotel Ibis Kuta (8.500.000 IDR / participant)
Lombok, Hotel Jayakarta (8.750.000 IDR / participant)
Investasi Pelatihan tahun 2020 ini :
Investasi pelatihan selama tiga hari tersebut menyesuaikan dengan jumlah peserta (on call). *Please feel free to contact us.
Apabila perusahaan membutuhkan paket in house training, anggaran investasi pelatihan dapat menyesuaikan dengan anggaran perusahaan.
Fasilitas Pelatihan di Diorama untuk Paket Group (Minimal 2 orang peserta dari perusahaan yang sama):
FREE Airport pickup service (Gratis Antar jemput Hotel/Bandara)
FREE Transportasi Peserta ke tempat pelatihan .
Module / Handout
FREE Flashdisk
Sertifikat
FREE Bag or bagpackers (Tas Training)
Training Kit (Dokumentasi photo, Blocknote, ATK, etc)
2xCoffe Break & 1 Lunch, Dinner
FREE Souvenir Exclusive
Jadwal Pelatihan masih dapat berubah, mohon untuk tidak booking transportasi dan akomodasi sebelum mendapat konfirmasi dari Marketing kami. Segala kerugian yang disebabkan oleh miskomunikasi jadwal tidak mendapatkan kompensasi apapun dari kami.
Technorati Tags: training talent managemen berbasis nlp pasti jalan,training melakukan seleksi dan wawancara berbasis talent dan kompetensi pasti jalan,training listening,questioning & summarizing skills in competency interview pasti jalan,training psychological aspects of competency interview pasti jalan,pelatihan talent managemen berbasis nlp pasti jalan,pelatihan melakukan seleksi dan wawancara berbasis talent dan kompetensi pasti running
Please follow and like us: