TRAINING BASIC MACHINERY VIBRATION
Training Machinery Vibration
Training Getaran Pada Mesin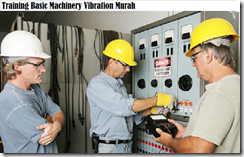 PENGANTAR:
Amplitudo getaran mesin yang berlebihan akan mempengaruhi kualitas serta umur mesin tersebut, oleh karena itu amplitudo getaran yang terjadi harus dibuat agar di bawah ambang batas standar yang ada. Untuk mengurangi amplitudo getaran, selain diperlukan sensor dan analyzer, juga diperlukan pengetahuan yang memadai. Tanpa pengetahuan yang memadai maka analisis tidak dapat dilakukan secara maksimal. Pengetahuan dasar yang diperlukan adalah meliputi: dinamika struktur, dinamika komponen rotasi serta metode analisis sinyal getaran. Kursus ini mengulas dasar-dasar pengetahuan yang diperlukan untuk analisis problem getaran, yang melipui: pengetahuan tentang dinamika struktur mesin rotasi maupun struktur penumpuny ( resonansi dan modus getar), tentang metode pengukuran getaran serta analisisnya, ciri-ciri kerusakan komponen rotasi, analisis sinyal, pengetahuan tentang sensor serta vibration analyzer, pengukuran getaran di atas 20 kHz (modulasi sinyal, SPM), serta pengantar untuk analisis dan problem
solving.
TUJUAN TRAINING:
Setelah mengikuti training, peserta mengerti tentang prinsip dasar pengukuran vibrasi, pengetahuan tentang kondisi struktur penumpu mesin, setting peralatan vibrasi serta analisis atas sinyal vibrasi untuk problem solving.
SIAPA SEBAIKNYA MENGIKUTI TRAINING INI?:
operator maupun engineer yang berkecimpung di maintenance dan vibration monitoring dan analisis dan semua pihak yang ingin memahami topik ini.
CAKUPAN MATERI TRAINING:
1.    Pengantar
* Mengapa getaran muncul ?
* Sejaran pengukuran getaran
* Mengapa getaran dapat dijadikan sebagai tolok ukur kerusakan?
2.    Dasar-dasar
* Amplitudo, frekuensi dan sudut fasa
* Displacement, velocity dan acceleration
* Dinamika struktur
* Pengubahan pola dinamika struktur (penggeseran frekuensi resonansi)
* Peredaman getaran
3.    Pengukuran sinyal getaran
* Sensor getaran dan prinsip kerjanya
* Daerah kerja sensor
* Kalibrasi sensor
* Set-up sistem pengukuran getaran
* Signal analyzer: FFT, Windowing, Coupling, Antialias filter, averaging, measurement unit, etc.
* Pengukuran getaran, setting parameter pengukuran.
* Jenis-jenis tampilan grafik: power spectrum, linear spectrum, waterfall diagram, polar plot
* Pengolahan sinyal getaran
4.    Analisis sinyal getaran
* Membaca grafik hasil pengukuran getaran
* Konversi data
* Membuat trending overall dan komponen
* Mechanical signature analysis
Unbalance
Misalignment
Rolling element
Gear
Belt, dll
5.    Pengukuran Getaran bantalan, di atas 20 kHz
* Fenomena kerusakan bantalan gelinding
* Keterbatasan sensor accelerometer
* Teknik Modulasi Sinyal, SPM
* Acoustic emission
INSTRUCTOR :   Dr.Ir. Paryana Puspaputra, M.Eng., and Team
TRAINING INSTRUCTOR
Paryana Puspaputra was born in Kotabumi on January 19, 1964, is a Lecturer at the Department of Mechanical Engineering, Faculty of Industrial Technology, Indonesia Islamic University – Indonesia. Undergraduate from Department of Mechanical Engineering, Bandung Institute of Technology, Indonesia (ITB) in 1990 and master degree in Mechanical Engineering Department of Nagaoka University of Technology, Japan in 1996. He achieved his doctorate degree in Department of Mechanical Engineering, Bandung Institute of Technology, Indonesia (ITB) in 2012. He is also experienced as consultant and training instructure for several manufacturing and oil company, such as Chevron, Total, KPA, Petrokimia, Semen, Indonesia Power, etc. His background in mechanical equipment and machinery is completed with knowledge in instrumentation technology which was started from his final project in undergraduate by making software and data acquisition for predictive maintenance, and continued with his graduate thesis in control
system for nano technology. There are researches and industrial implementation in data acquisition such as building the DNC system for production-shop using CNC machine, developing the balancing machine for Panasia Indosyntex – Bandung, SCADA system Development based on Fuji Electric control system (for IPAL – Pertamina – Cilacap, Toxic Gas Monitoring – Dieng – Central Java, etc). Moreover, he is also an official trainer of softwares for design and manufacturing base on CAD/CAM Technology (AutoCAD, Inventor, and Delcam PowerShape, ArtCAM) and familier with some finite element based analysys softwares such as Moldflow, ANSYS, SAP, CAESAR II, etc.
Jadwal training basic machinery vibration terbaru :
· 15 – 17 Januari 2019
· 12 – 14 Februari 2019
· 12 – 14 Maret 2019
· 9 – 11 April 2019
· 7 – 9 Mei 2019
· 18 – 20 Juni 2019
· 9 – 11 Juli 2019
· 6 – 8 Agustus 2019
· 24 – 26 September 2019
· 8 – 10 Oktober 2019
· 5 – 7 November 2019
· 3 – 5 Desember 2019
Jadwal tersebut dapat disesuaikan dengan kebutuhan calon peserta training getaran pada mesin terbaru
Lokasi training machinery vibration terbaru :
· Yogyakarta, Hotel Dafam Malioboro (6.000.000 IDR / participant)
· Jakarta, Hotel Amaris Tendean (6.500.000 IDR / participant)
· Bandung, Hotel Golden Flower (6.500.000 IDR / participant)
· Bali, Hotel Ibis Kuta (7.500.000 IDR / participant)
· Lombok, Hotel Jayakarta (7.500.000 IDR / participant)
Investasi Pelatihan :
Investasi pelatihan selama tiga hari tersebut menyesuaikan dengan jumlah peserta (on call). *Please feel free to contact us.
Apabila perusahaan membutuhkan paket in house training, anggaran investasi pelatihan dapat menyesuaikan dengan anggaran perusahaan.
Fasilitas training getaran pada mesin murah :
· FREE Airport pickup service (Gratis Antar jemput Hotel/Bandara)
· FREE Akomodasi Peserta ke tempat pelatihan bagi peserta training machinery vibration terupdate
· Module / Handout training basic machinery vibration terupdate
· FREE Flashdisk
· Sertifikat training perawatan mesin murah
· FREE Bag or bagpackers (Tas Training)
· Training Kit (Dokumentasi photo, Blocknote, ATK, etc)
· 2xCoffe Break & 1 Lunch, Dinner
· FREE Souvenir Exclusive
Please follow and like us: