TRAINING LEADERSHIP & COMPREHENSIVE MANAGERIAL SKILL
Training Kepemimpinan & Keterampilan Manajerial Komprehensif
Training Quality Management System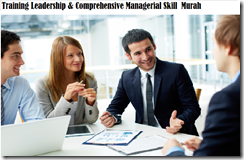 Description :
Dalam training ini akan memberikan pelatihan antara skill dan pendekatan – pendekatannya yang akan berkolaberasi dalam mengatur strategy managerial fungtions bagaimana strategy untuk mendeliverykannya dan bagaimana melibatkan bawahan dalam kegiatan proses suatu organisasi, serta menentukan siapa – siapa yang memerlukan bimbingan.
Sylabus:
1. Introduction
2. Definition manager
3. What are the managers fungsion?
4. What is leadership?
5. Identify both leadership and management skill
6. Identify the traits and skills of an effective leader
7. Key leadership theories
8. Trasformational leadership
9. Change situation
10. Examine the role, duties and responsibilities of a Team Leader in the workplace
11. Understand the limits of authority in a Team Leader role
12. Develop a plan to develop your own leadership potential
Class Task….. design a planning for keperluan seorang manager yang transisi.
TRAINER :
Drs, Apt Herman Ranu Wiharjo MBA, Ph.D
Adalah lulusan Pharmacist Airlangga University, New Haven University Connecticut USA (1997-MBA, Health Care Management), North Central University, Arizona, USA (2000-Ph.D, Human Resources Management). Beliau berpengalaman lebih dari 15 tahun sebagai consultant coaching and teaching and operational consultation related to Quality Management System, Human Resources Management and Business include ISO ( training, sertification ) all type, Quality Management System, and Project Management, Leaderhip in quality, TNA, Compensation and Benefit Analysis, Customer service excellence training and Total Quality Management (TQM) etc, for Government Dept, and Privat, Indonesia, until now. Pada For Bank Indonesia, Mid Plazza, Kino, Summarecon, Mining Company, Bank Mega, Soho pharmaceutical company, Electronik city, Mandiri Bank, DPRD, Mendikbud, Sekolah Negeri, Puskesmas, Rumah Sakit, dll.
Jadwal Lainnya :
Basic HSE (JAKARTA)TRAINING BASIC HUMAN RESOURCE MANAGEMENT