PELATIHAN LOTO: LOCKOUT / TAGOUT
TRAINING TENTANG LOCKOUT / TAGOUT (LOTO)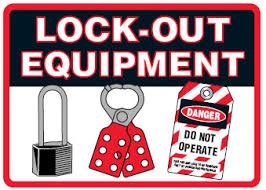 DESCRIPTION:
This training aims to develop the knowledge and skills required of those employees to be able to implement procedures and equipment or hazardous energy. Knowledge / skills in question here involves the locking and labeling correctly so that accidents caused by these energies can be avoided.
TRAINING OBJECTIVES:
After the end of this course participants will be able to:
1. Demonstrating their understanding background and concepts of LOTO
2. Identifying the purpose of the application of the policies and benefits in employment LOTO
3. Identifying which employees must apply LOTO
4. Identify hazards and other types of equipment LOTO
5. Understand the steps to be followed in implementing LOTO and what to do at each stage.
6. Having awareness embodied in the form of responsible behavior in implementing LOTO
WHO SHOULD ATTEND THIS TRAINING?:
This course is suitable for managers, supervisors, officer / engineer, employees, self-employed, who are responsible for implementing and coordinating the activities of LOTO, supervisors, safety
TRAINING MATERIAL OUTLINE LOTO:
1. Authorized employees/affected employees.
2. Lock vs tags.
3. Issue of/responsibility for locks/tags/equipment.
+ Individual responsibility for use.
4. Isolation! Individual and sequence.
+ Emphasis sequence, and multiple energy source potential.
5. Removal/restorations of energy.
6. Review of equipment.
+ Periodic (day-week-month-year?).
7. Work order/work review.
+ Individual responsibility
+ Supervisory responsibility
+ Management commitment
8. Inspection procedures.
9. Contractors
+ Responsibility to inform
10. Disciplinary actions.
* Violations of standards, policies, and procedures are to be dealt with as management actions.
* Show Video Discuss video(s)
11. Resume, discussion, Post Test
Instruktur Training
Bambang Pamudji BSc.SE
Bambang Pamudji, B.Sc.,SE. has much real experiences, he is former Senior Health and Safety staff at PT. Pupuk Sriwidjaja,PUSRI(Urea Fertilizer Manufacturer) Palembang. He was born in Pasuruan East Java, 14 March 1950. He got his B.Sc in Public Health from APK Surabaya in 1971 and was graduated from Economic Management Sriwidjaja University, UNSRI, Palembang in 1996. He has certificates in Health, Safety, and Environment (HSE) from Depnakertrans RI/Institutions and Universities in Indonesia, institutions and Universities in UK, and National Safety Council. Experienced in setting up Health and Safety Management System documentation and its application. Experienced internal lead auditor SMK3 in PT. Pupuk Sriwidjaja, and External lead auditor SMK3 for Indonesian Association Fertilizer Producer. He has been teaching industrial training classes for many classes related to topics of his competencies, HSE. Many participants from many companies in Indonesia have participated in his training classes.
Jadwal infotraining-indonesia.com tahun 2020 :
21-23 Januari 2020
18-20 Februari 2020
17-19 Maret 2020
14-16 April 2020
16-18 Juni 2020
14-16 Juli 2020
11-13 Agustus 2020
8-10 September 2020
13-15 Oktober 2020
10-13 November 2020
15-17 Desember 2020
Jadwal tersebut dapat disesuaikan dengan kebutuhan calon peserta
Lokasi Pelatihan Diotraining.com :
Yogyakarta, Hotel Dafam Malioboro (7.250.000 IDR / participant)
Jakarta, Hotel Amaris Tendean (7.750.000 IDR / participant)
Bandung, Hotel Golden Flower (7.750.000 IDR / participant)
Bali, Hotel Ibis Kuta (8.500.000 IDR / participant)
Lombok, Hotel Jayakarta (8.750.000 IDR / participant)
Investasi Pelatihan tahun 2020 ini :
Investasi pelatihan selama tiga hari tersebut menyesuaikan dengan jumlah peserta (on call). *Please feel free to contact us.
Apabila perusahaan membutuhkan paket in house training, anggaran investasi pelatihan dapat menyesuaikan dengan anggaran perusahaan.
Fasilitas Pelatihan di Diorama untuk Paket Group (Minimal 2 orang peserta dari perusahaan yang sama):
FREE Airport pickup service (Gratis Antar jemput Hotel/Bandara)
FREE Transportasi Peserta ke tempat pelatihan .
Module / Handout
FREE Flashdisk
Sertifikat
FREE Bag or bagpackers (Tas Training)
Training Kit (Dokumentasi photo, Blocknote, ATK, etc)
2xCoffe Break & 1 Lunch, Dinner
FREE Souvenir Exclusive
Jadwal Pelatihan masih dapat berubah, mohon untuk tidak booking transportasi dan akomodasi sebelum mendapat konfirmasi dari Marketing kami. Segala kerugian yang disebabkan oleh miskomunikasi jadwal tidak mendapatkan kompensasi apapun dari kami.
Technorati Tags: training talent managemen berbasis nlp pasti jalan,training melakukan seleksi dan wawancara berbasis talent dan kompetensi pasti jalan,training listening,questioning & summarizing skills in competency interview pasti jalan,training psychological aspects of competency interview pasti jalan,pelatihan talent managemen berbasis nlp pasti jalan,pelatihan melakukan seleksi dan wawancara berbasis talent dan kompetensi pasti running