TRAINING UNDERSTANDING SHIPPING FOR BANKERS ADVANCED COURSE
Training Shipping For Bankers
Training Pemahaman Shiiping Business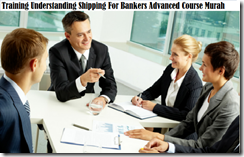 LATAR BELAKANG
Kebutuhan kapal di Indonesia yang relatif sangat besar, khusus angkutan muatan tambang, trayek ekspor impor dan industri migas. Apalagi dengan diberlakukannya asas cabotage yang mengharuskan kargo domestik diangkut oleh kapal berbendera Indonesia. Diperkirakan kebutuhan dana untuk akuisisi kapal, baik kapal baru atau kapal bekas sekitar sebesar USD 4,6 milyar sampai dengan tahun 2010, dengan jumlah kapal yang dibutuhkan sebanyak kurang lebih 650 buah. Mengacu pada kondisi tersebut, peran perbankan untuk mendukung pembiayaan kapal di Indonesia sangat diharapkan. Dengan demikian, industri perbankan harus mempunyai pemahaman dan pengalaman untuk menilai suatu asset kapal/investasi kapal yang akan dibiayai, baik dari sisi finansial, teknis-operasional maupun hukum.
TUJUAN
1. Meningkatkan pengetahuan dan pemahaman bagi pegawai khusus dalam aspek penilaian kapal dan perlindungan hukum atas pinjaman yang diberikan;
2. Meningkatkan pemahaman dan keahlian dalam aspek asuransi kapal yang menjadi instrumen pokok bagi perlindungan asset dalam setiap pengoperasian kapal;
3. Meningkatkan pemahaman secara komprehensif mengenai industri Perkapalan dan atau pelayaran di Indonesia.
MANFAAT
1. Meningkatkan business opportunity secara berkesinambungan di sektor perkapalan dan atau pelayaran;
2. Berpartisipasi bagi pemberian pinjaman bagi debitur-debitur yang dianggap layak dan memerlukan kapal bagi distribusi produk-produknya;
3. Mendorong pertumbuhan kredit dan perkembangan bisnis dari pihak-pihak yang memerlukan kapal bagi sarana distribusi yang terkait;
4. Meningkatkan pendapatan perusahaan dengan didukung oleh sistem perlindungan hukum yang memadai.
5. Memberikan perlindungan kepentingan secara optimum atas pembiayaan kapal yang dilakukan.
MATERI PELATIHAN
1. Understanding Shipping Business in Indonesia
+ Overview of shipping business operation in Indonesia
+ Contract of Carriage : Charter Party & Bill of Lading
+ Safety & Security Issues on Shipping Business
+ Role of International Maritime Organization
+ International Law (Convention) of Shipping Business
+ Role of Classification Society on Shipping
+ Ship Registration and Flag of Ship
+ Flag State & Port State Control for Ship Safety Implementation
+ Salvage of Ship
+ Discussion.
2. Ship Appraisal & Valuation
+ Overview of shipping industry & classification of shipping business
+ Technical aspects of ship
+ Ship valuation methodology & implementation
+ Understanding risk assessment on ship valuation
+ Financial aspect of ship valuation
+ Credit analysis based on ship valuation
+ Problems and challenges of ship valuation
+ Discussion.
3. Ship Acquisition Transaction for Bankers
+ Overview of Ship Sale & Purchase for New building & Secondhand Ship
+ Preparation of Ship Acquisition Transaction
+ Contracts of Ship Acquisition
+ International Standard Contract for Ship Acquisition
+ Ship Mortgage & Liens for Securing Creditor Interests
+ Ship Arrest for Securing Creditor Interests
+ Problems & Challenges of Ship Acquisition Transaction
+ Discussion.
4. Understanding Marine Insurance: Creditors Perspective
+ Overview of Marine Insurance in Indonesia
+ Principles of Marine Insurance
+ Marine Insurance Contract
+ Classification of Marine Insurance: Hull & Machinery (H&M), Protection & Indemnity (P & I), and Cargo Insurance
+ Institute Time Clause (ITC) of Marine Insurance Contract
+ Marine Insurance Claims
+ Role of Marine Insurance Broker & Loss Adjuster
+ War Risk Insurance Coverage for Shipping Business
+ Discussion.
Course Instructors
* Ahmad Syaifudin, SH. Mr
Marine Insurance Consultant, Consulting Group
* Rahman Fajriyansah, SH. MSc. Mr
Professional Consultant Consulting Group
* Taufik Fadjar Nugroho, ST. MSc. GMRINA. Mr
Shipping Consultant, Consulting Group
Jadwal infotraining-indonesia.com tahun 2020 :
21-23 Januari 2020
18-20 Februari 2020
17-19 Maret 2020
14-16 April 2020
16-18 Juni 2020
14-16 Juli 2020
11-13 Agustus 2020
8-10 September 2020
13-15 Oktober 2020
10-13 November 2020
15-17 Desember 2020
Jadwal tersebut dapat disesuaikan dengan kebutuhan calon peserta
Lokasi Pelatihan Diotraining.com :
Yogyakarta, Hotel Dafam Malioboro (7.250.000 IDR / participant)
Jakarta, Hotel Amaris Tendean (7.750.000 IDR / participant)
Bandung, Hotel Golden Flower (7.750.000 IDR / participant)
Bali, Hotel Ibis Kuta (8.500.000 IDR / participant)
Lombok, Hotel Jayakarta (8.750.000 IDR / participant)
Investasi Pelatihan tahun 2020 ini :
Investasi pelatihan selama tiga hari tersebut menyesuaikan dengan jumlah peserta (on call). *Please feel free to contact us.
Apabila perusahaan membutuhkan paket in house training, anggaran investasi pelatihan dapat menyesuaikan dengan anggaran perusahaan.
Fasilitas Pelatihan di Diorama untuk Paket Group (Minimal 2 orang peserta dari perusahaan yang sama):
FREE Airport pickup service (Gratis Antar jemput Hotel/Bandara)
FREE Transportasi Peserta ke tempat pelatihan .
Module / Handout
FREE Flashdisk
Sertifikat
FREE Bag or bagpackers (Tas Training)
Training Kit (Dokumentasi photo, Blocknote, ATK, etc)
2xCoffe Break & 1 Lunch, Dinner
FREE Souvenir Exclusive
Jadwal Pelatihan masih dapat berubah, mohon untuk tidak booking transportasi dan akomodasi sebelum mendapat konfirmasi dari Marketing kami. Segala kerugian yang disebabkan oleh miskomunikasi jadwal tidak mendapatkan kompensasi apapun dari kami.
Technorati Tags: training talent managemen berbasis nlp pasti jalan,training melakukan seleksi dan wawancara berbasis talent dan kompetensi pasti jalan,training listening,questioning & summarizing skills in competency interview pasti jalan,training psychological aspects of competency interview pasti jalan,pelatihan talent managemen berbasis nlp pasti jalan,pelatihan melakukan seleksi dan wawancara berbasis talent dan kompetensi pasti running
Please follow and like us: