TRAINING SECURITY MANAGEMENT
Training Manajemen Keamanan
Training Fungsi Manajemen Keamanan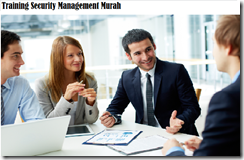 INTRODUCTION / BACKGROUND
There are some definitions of security , one of them states that "Security is defined as taking reasonable measures toward the protection of property / assets, tangible or intangible, against deliberate foreseeable loss-producing events". By using this definition, firstly it is really important to understand  the Basic Principles of Loss Control Management and four main functions of Security Management ( Planning, Implementing, Checking, Reviewing ). Secondly, it is also really important to understand the relationship between Security Management and Loss Control Objectives and Functions.
COURSE OBJECTIVES AND BENEFITS
After attending this valuable and interesting course, the course participants will be able to:
1. Understand and implement the basic principles of Loss Control Management
2. Understand the definitions, functions and principles of Security
3. Understand and implement Four Main Functions of Security Management
4. Understand Security Management Aspects in Oil and Gas Industry
5. Understand and implement Security Aspects in Operational Excellence Management System ( OEMS ) or Operational Integrated Management System ( OIMS )
6. Solve security problems in Oil and Gas Industry activities
7. Integrate, synchronize and / or combine as well as prepare and implement Security Management Work Programs with OE – HSE / SHE / EHS / HES Work Programs, for examples : (0 ; 0 ; 0 = Zero Incidents ; Zero Spill ; Zero Delay Time ), Fundamental Safe Work Practices ( FSWP ), TENETS of Operational Excellence, Five Smith System, Behavior Based Safety (BBS), etc.
COURSE SYLLABUS
1.       Opening, Emergency Response Plan/Procedure Briefing, HSE/SHE/EHS/HES Moments, Ice Breaker, Pre-Test
2.       Introduction to Loss Control Management
3.       Definitions, Functions and Principles of Security
4.       Four Main Functions of Security Management :
4.1    Security Planning
* Top Management Commitment
* Risk Management for Managing Security
* Legal & Other Security Requirements (examples : security standards, best practices, etc.)
* Security Objectives
* Security Management Programs
4.2    Security Implementation and Operations
* Security Organization, Structure, Roles and Responsibilities
* Security Personnel Training and Competence
* Security Operational Control
* Security Consultation and Communication
* Security Involvement in Emergency Preparedness & Response
* Security Documentation and Data Control
4.3 Checking and Corrective Actions in Security :
* Security Performance Measurement and Monitoring
* Security Reports and Records Management
* Security Audit
4.4 Security Management Control  and Review
5. Security Management Aspects and Security Problems Solving in Oil & Gas Industry
6. Security Roles & Functions in Successfully of Operational Excellence Management System ( OEMS ) and HSE/SHE/EHS/HES Work Programs
7. Case Studies, Case Histories, Group Discussions & Presentations, VCD Displays, Post Test, Course Evaluation, Closing
WHO SHOULD ATTEND ?
Managers, Superintendents, Section Heads, Team Managers, Team Leaders, Group Leaders, Supervisors of all departments in Oil and Gas Industry include Security Services Companies / Business Partners.
COURSE LANGUAGE
Bahasa Indonesia, some terminology are still in English.
COURSE FACILITATORS
Ir. Didi Sugandi Bc. M and partner (to be named later on, he is a former of Security Manager/Superintendent/Coordinator of the famous KPS/PSC). During working in PT Stanvac Indonesia Pendopo, VICO Indonesia East Kalimantan, Karaha Bodas Company Garut West Java and JOB Pertamina Gulf Resources Jambi, Didi worked together or closely with Security Department and the Local Police/TNI Officers in Explosives, Industrial & Housing Complex Security, Traffic, Forest Fires, Accident/Incident Investigation, Training for Security Personnel and other security matters.
Jadwal infotraining-indonesia.com tahun 2020 :
21-23 Januari 2020
18-20 Februari 2020
17-19 Maret 2020
14-16 April 2020
16-18 Juni 2020
14-16 Juli 2020
11-13 Agustus 2020
8-10 September 2020
13-15 Oktober 2020
10-13 November 2020
15-17 Desember 2020
Jadwal tersebut dapat disesuaikan dengan kebutuhan calon peserta
Lokasi Pelatihan Diotraining.com :
Yogyakarta, Hotel Dafam Malioboro (7.250.000 IDR / participant)
Jakarta, Hotel Amaris Tendean (7.750.000 IDR / participant)
Bandung, Hotel Golden Flower (7.750.000 IDR / participant)
Bali, Hotel Ibis Kuta (8.500.000 IDR / participant)
Lombok, Hotel Jayakarta (8.750.000 IDR / participant)
Investasi Pelatihan tahun 2020 ini :
Investasi pelatihan selama tiga hari tersebut menyesuaikan dengan jumlah peserta (on call). *Please feel free to contact us.
Apabila perusahaan membutuhkan paket in house training, anggaran investasi pelatihan dapat menyesuaikan dengan anggaran perusahaan.
Fasilitas Pelatihan di Diorama untuk Paket Group (Minimal 2 orang peserta dari perusahaan yang sama):
FREE Airport pickup service (Gratis Antar jemput Hotel/Bandara)
FREE Transportasi Peserta ke tempat pelatihan .
Module / Handout
FREE Flashdisk
Sertifikat
FREE Bag or bagpackers (Tas Training)
Training Kit (Dokumentasi photo, Blocknote, ATK, etc)
2xCoffe Break & 1 Lunch, Dinner
FREE Souvenir Exclusive
Jadwal Pelatihan masih dapat berubah, mohon untuk tidak booking transportasi dan akomodasi sebelum mendapat konfirmasi dari Marketing kami. Segala kerugian yang disebabkan oleh miskomunikasi jadwal tidak mendapatkan kompensasi apapun dari kami.
Technorati Tags: training talent managemen berbasis nlp pasti jalan,training melakukan seleksi dan wawancara berbasis talent dan kompetensi pasti jalan,training listening,questioning & summarizing skills in competency interview pasti jalan,training psychological aspects of competency interview pasti jalan,pelatihan talent managemen berbasis nlp pasti jalan,pelatihan melakukan seleksi dan wawancara berbasis talent dan kompetensi pasti running
Please follow and like us: