TRAINING JUNIOR PROFESSIONAL IN HUMAN RESOURCES MANAGEMENT & HR ADMINISTRATOR
Training Human Resources Management
Training Human Resources Administrator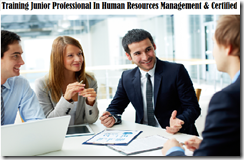 BACKGROUND TRAINING JPHR & CHRA
Salah satu fondasi pengelolaan SDM adalah kekuatan operasional fungsi SDM untuk menjawab "day-to-day operations" yang bersentuhan langsung dengan "customer" utama departemen SDM, yaitu : tenaga kerja (workforces) dan manajemen lini (frontliner). Fungsi  ini terkait dengan administrasi personalia hingga support HR dalam mendukung operasional – Core Process Organisasi. Bukan saja penanganan penggajian, jamsostek, cuti, pesangon, lembur namun para staf operasional SDM harus mampu melakukan aktivitas operasional terkait fungsi recruitment, training, development, general affairs, industrial relations (Legal-HR), community development hingga semua hal terkait dengan HR Transaksional dan Compensation & benefits. Program ini di desain untuk menjawab kebutuhan SDM di level operasional HR, menutup "gap" praktisi HR yang berasal dari berbagai multi-disiplin.
LEARNING OBJECTIVES
Peserta setelah mengikuti workshop intensif dan sertifikasi JPHR & CHRA ini diharapkan :
1. Kompeten dalam menjalankan fungsi operasional HR
2. Kompeten menterjemahkan fungsi stratejik HR ke dalam fungsi services & support ke operasional
3. Kompeten sebagai pelaksana fungsi-fungsi manajemen sumber daya manusia stratejik.
4. Kompeten dalam menyelesaikan masalah operasional SDM secara mandiri yang menjadi tukas pokoknya.
COMPREHENSIVE CURRICULUM
Module 1 – Fungsi Dasar Manajemen SDM
* Roles & Responsibilities of A Human Resource Administrator & Admin Expert
* Understanding HR Cycles
* HR Department Structure
* HR Functions
* HR Planning & Budgeting
* HR Practices
* HR as a Strategic Partner (Strategic Management)
Module 2 – Industrial Relations
* Basic terms & conditions of employment (PKWT, PKWTT, Outsourcing, Hubungan kerja antara pengusaha dan pekerja)
* Termination, Dismissal & Disputes (Pemutusan Hubungan Kerja, Perselisihan Hubungan Industrial)
* Collective Labor Agreement (Penyusunan PP/PKB)
* Current trends & applications
* Bi-partite Forum & Industrial Relations
Module 3 – Job Management System
* Planning & Conducting The Job Analysis
* Developing Job Descriptions And Job Specifications
* Uses & Application of Job Analysis Information
* Simple Job Evaluation
* Grading System & Salary Structure
Module 4 – Recruitment & Selection
* Manpower Planning
* Recruitment Process
* Recruiting Sources & Methods
* Job Advertising
* Selection Process
* Application Forms
* Administering Selection Tests
* Selection Interviews
* Reference Checking Methods
* Making the Job Offer
Module 5 – Training Cycles & Basic CBHRM (Competency-based HRM)
* Training Roles & Function
* Training Policy
* Implementing the Training Plan
* Training Needs Analysis
* Setting Learning Goals
* New Employees Orientation
* Training Process & Methods
* Training Evaluation
* Competency Model
* Competency Assessment
* Example Competency-based HRM
Module 6 – Performance Appraisal
* Administering The Performance Appraisal Process
* Uses of Performance Appraisal
* Methods for Appraising Performance
* Managing Performance Appraisal
* Problems of Performance Appraisal
* Setting of targets and goals
Module 7 – Basic Compensation
* Components & Aims of Compensation
* Compensation Equity
* Staff vs Non-Staff
* Salary Administration
* Factors Determining Salary
* Variable Rewards
* Benefits
* Non Financial Compensation
Module 8 – Introduction Human Capital Management
* Basic Talent Management
* Nine-Box Grid Model (Talent Identification)
* Individual Development Plan
* Salary Development Plan
* Career Development Plan
METODE PELATIHAN
* Classroom presentation and discussion
* Interactive activities
* Competency-Based Assessments
* Role plays
* Mini projects
* Case Studies
PESERTA
HR Staff, HR Beginner, Non HR People, Fresh Graduates Multy Entry, dan pembelajar yang tertarik untuk menguasai bidang SDM.
FASILITATOR
Bima Hermastho,
Praktisi dan Konsultan Senior SDM & Manufacturing Improvement Technologist, memiliki pengalaman sebagai senior management di berbagai grup perusahaan lokal dan multinational dengan karyawan lebih dari 50.000 orang. Keahliannya adalah mengintegrasikan Praktek SDM Terbaik melalui System SDM yang berkualitas untuk menciptakan Keunggulan Organisasi  Berbasis Total Quality Management. Beliau sudah mensertifikasi lebih dari 700 orang di bidang manajemen SDM baik generalist maupun spesialis dan sudah mensertifikasi lebih dari 400 supervisor dan manajer di bidang Lean Six Sigma & Total Productive Management di berbagai bidang industry di Indonesia. Pengajar Pengembangan Organisasi dan SDM di Lembaga Pengembangan Inovasi dan Kewirausahaan ITB, Bandung.
Haris Hamonangan Sidauruk
Saat ini beliau menjabat sebagai VP & Senior Consultant pada PT. Freemind Management Consulting. Sebagai seorang professional, beliau pernah menempati beberapa jabatan diantaranya : sebagai Management Trainee,  Production Manager, Training Manager, TPM Manager, HSE Manager  (PT. Multi Bintang Indonesia Tbk, (Heineken Group). and PT United Can Company Tbk dan sebagainya. Beliau juga aktif dalam beberapa perkumpulan oraganisasi diantaranya : sebagai anggota PMSDM (Perhimpunan Management  Sumber Daya Manusia Indonesia), APO Asian Productivity  Organization,  P2K3 Indonesia,  TPM Heineken Group, AK3 Umum Indonesia, PPR & PKR  Indonesia dan sebagainya. Beberapa sertifikasi yang telah diperoleh beliau diantaranya Certified Balanced Scorecard Professional, Certified by GML Performance Consulting, Certified  CPHRM, Certified CGRP & CP, Certified  APO Asian Productivity Organization dan sebagainya.
Jadwal infotraining-indonesia.com tahun 2020 :
21-23 Januari 2020
18-20 Februari 2020
17-19 Maret 2020
14-16 April 2020
16-18 Juni 2020
14-16 Juli 2020
11-13 Agustus 2020
8-10 September 2020
13-15 Oktober 2020
10-13 November 2020
15-17 Desember 2020
Jadwal tersebut dapat disesuaikan dengan kebutuhan calon peserta
Lokasi Pelatihan Diotraining.com :
Yogyakarta, Hotel Dafam Malioboro (7.250.000 IDR / participant)
Jakarta, Hotel Amaris Tendean (7.750.000 IDR / participant)
Bandung, Hotel Golden Flower (7.750.000 IDR / participant)
Bali, Hotel Ibis Kuta (8.500.000 IDR / participant)
Lombok, Hotel Jayakarta (8.750.000 IDR / participant)
Investasi Pelatihan tahun 2020 ini :
Investasi pelatihan selama tiga hari tersebut menyesuaikan dengan jumlah peserta (on call). *Please feel free to contact us.
Apabila perusahaan membutuhkan paket in house training, anggaran investasi pelatihan dapat menyesuaikan dengan anggaran perusahaan.
Fasilitas Pelatihan di Diorama untuk Paket Group (Minimal 2 orang peserta dari perusahaan yang sama):
FREE Airport pickup service (Gratis Antar jemput Hotel/Bandara)
FREE Transportasi Peserta ke tempat pelatihan .
Module / Handout
FREE Flashdisk
Sertifikat
FREE Bag or bagpackers (Tas Training)
Training Kit (Dokumentasi photo, Blocknote, ATK, etc)
2xCoffe Break & 1 Lunch, Dinner
FREE Souvenir Exclusive
Jadwal Pelatihan masih dapat berubah, mohon untuk tidak booking transportasi dan akomodasi sebelum mendapat konfirmasi dari Marketing kami. Segala kerugian yang disebabkan oleh miskomunikasi jadwal tidak mendapatkan kompensasi apapun dari kami.
Technorati Tags: training talent managemen berbasis nlp pasti jalan,training melakukan seleksi dan wawancara berbasis talent dan kompetensi pasti jalan,training listening,questioning & summarizing skills in competency interview pasti jalan,training psychological aspects of competency interview pasti jalan,pelatihan talent managemen berbasis nlp pasti jalan,pelatihan melakukan seleksi dan wawancara berbasis talent dan kompetensi pasti running
Please follow and like us: