TRAINING LAND AND BUILDING PERMITS IN ASSET MANAGEMENT
Training Izin Tanah Dan Bangunan Dalam Manajemen Aset
Training Procedures And Basic Hukum Perizinan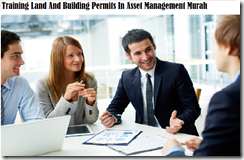 The principle involved in public law license because of legislation relating to exceptions if there is a criminal aspect as well as the approval of the special permit granting. Permission is an act of Administrative Law is applied inone-sided rules based on the requirements and procedure as stipulated in the legislation.
Land is one very valuable asset on this earth,which in the history of human civilization unceasingly gives problems complicated problems .Indonesia, which has the land (soil) is very spacious,has made the issue of land as one of the most urgent issues among other problems. So no wonder,after Indonesia became independent , the first thing done by the leaders of the nationat that moment is the project"reform"is marked with the enactment of Law No. 5 of 1960
Concerning Basic Principles of Agricultural , here in after referred to as BAL.
In the BAL itself provide a legal basis for the decision to ground the right to determine: For the public interest,including the interests of the nation as well as the common interests of the people ,the rights may be revoked,by providing adequate compensation in a manner that is regulated by Law Invite. Development is actively carried out the government is often in conflict with land acquisition problems .In order not to violate the rights of the owner of the land,the land acquisition must be done by paying attention to the principles of public interest (public interest) in accordance with applicable law. This will be discussed further in this workshop
This training aims to give participants understanding of the legal aspect concerning land and building acquisition rules and how the land and building acquisition practices that need to be considered in the context of there form of the land law, land acquisition compensation and dispute resolution as a result of land and building acquisition.
OUTLINE
*  Setting Land Law in Indonesia
*  Act 2 of 2012 on Land Procurement for Development (UUP TuP)
* Western Land Conversion to National Land Rights
* Land & Building Rights
* Procedures and Basic hukum Perizinan (Permit Area)
* Procedures and Basic Legal Services Business Permit (SITU)
* Procedures and Basic Legal Services Disturbance Permit (HO)
* Procedures and Legal Basis Mining Services Business License
* Public Rights and Private Rights to Land & Buildings
* Types of Land & Buildings
* Proprietary
* Lease hold
* Broking
* Right to Use
* Mortgage
* Procurement of Land & Buildings
* Liberation Land & Buildings
* Revocation of Land & Buildings
* Absentee Land Ownership Prohibition
Kelas interaktif (ceramah dan studi kasus), metode penyelenggaraan dapat dilakukan melalui training online, training zoom ataupun training tatap muka
Jadwal Training Terbaru di Tahun 2023
Januari : 10-11 Januari 2023
Februari : 7-8 Februari 2023
Maret : 7-8 Maret 2023
April : 18-19 April 2023
Mei : 16-17 Mei 2023
Juni : 6-7 Juni 2023
Juli : 11-12 Juli 2023
Agustus : 22-23 Agustus 2023
September : 12-13 September 2023
Oktober : 10-11 Oktober 2023
November : 7-8 November 2023
Desember : 5-6 Desember 2023
Jadwal tersebut juga dapat disesuaikan dengan kebutuhan calon peserta
Investasi training dealing with the media online  tahun 2023 ini :
Investasi pelatihan selama tiga hari tersebut menyesuaikan dengan jumlah peserta (on call). *Please feel free to contact us.
Apabila perusahaan membutuhkan paket in house training, anggaran investasi pelatihan dapat menyesuaikan dengan anggaran perusahaan.
Fasilitas Pelatihan untuk Paket Group (Minimal 2 orang peserta dari perusahaan yang sama):
FREE Airport pickup service (Gratis Antar jemput Hotel/Bandara)

FREE Transportasi Peserta ke tempat pelatihan .

Module / Handout

FREE Flashdisk

Sertifikat

FREE Bag or bagpackers (Tas Training)

Training Kit (Dokumentasi photo, Blocknote, ATK, etc)

2xCoffe Break & 1 Lunch, Dinner

FREE Souvenir Exclusive
Jadwal Pelatihan masih dapat berubah, mohon untuk tidak booking transportasi dan akomodasi sebelum mendapat konfirmasi dari Marketing kami. Segala kerugian yang disebabkan oleh miskomunikasi jadwal tidak mendapatkan kompensasi apapun dari kami.
Technorati Tags: training talent managemen berbasis nlp pasti jalan,training melakukan seleksi dan wawancara berbasis talent dan kompetensi pasti jalan,training listening,questioning & summarizing skills in competency interview pasti jalan,training psychological aspects of competency interview pasti jalan,pelatihan talent managemen berbasis nlp pasti jalan,pelatihan melakukan seleksi dan wawancara berbasis talent dan kompetensi pasti running