TRAINING MANAGING TIME, PRIORITIES, PRESSURES AND STRESS
Training Time Management
Training Cara Memanage Stress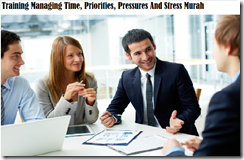 DESKRIPSI
Do you ever stress? Do you ever leave work with your "to-do" list half finished? If you're like most people, it happens often. In this workshop, you will learn and master the skills of setting priorities, so you can focus on what's important and control your workday, so you move toward your objectives steadily and complete them on time. You'll get more done, and add more value within your office. You'll feel less stressed and frazzled, and best of all, you'll be able to get to the high-priority tasks you never seem to have time for.
MATERI
1. How you're currently spending most of your time
2. How you should be spending your time
3. How to set attainable goals and organize your priorities
4. How to make use of idle moments
5. How to overcome procrastination
6. How to deal with interruptions and other "uncontrollable" time thieves
7. How and when to ask for help
8. How to deal with pressures
9. Understanding what is stress, e.g. theories, realities, prevalence
10. Symptoms and Causes  of stress
11. Effect of stress on job performance
12. How to diagnose stress-related work problems
13.  How to manage stress
14.  How to balance your life toward happiness
This program will benefits managers, supervisors and all those  who need to improve their ability to manage time, priorities, pressure and stress.
Kelas interaktif (ceramah dan studi kasus), metode penyelenggaraan dapat dilakukan melalui training online, training zoom ataupun training tatap muka
Jadwal Training Terbaru di Tahun 2023
Januari : 10-11 Januari 2023
Februari : 7-8 Februari 2023
Maret : 7-8 Maret 2023
April : 18-19 April 2023
Mei : 16-17 Mei 2023
Juni : 6-7 Juni 2023
Juli : 11-12 Juli 2023
Agustus : 22-23 Agustus 2023
September : 12-13 September 2023
Oktober : 10-11 Oktober 2023
November : 7-8 November 2023
Desember : 5-6 Desember 2023
Jadwal tersebut juga dapat disesuaikan dengan kebutuhan calon peserta
Investasi training dealing with the media online  tahun 2023 ini :
Investasi pelatihan selama tiga hari tersebut menyesuaikan dengan jumlah peserta (on call). *Please feel free to contact us.
Apabila perusahaan membutuhkan paket in house training, anggaran investasi pelatihan dapat menyesuaikan dengan anggaran perusahaan.
Fasilitas Pelatihan untuk Paket Group (Minimal 2 orang peserta dari perusahaan yang sama):
FREE Airport pickup service (Gratis Antar jemput Hotel/Bandara)

FREE Transportasi Peserta ke tempat pelatihan .

Module / Handout

FREE Flashdisk

Sertifikat

FREE Bag or bagpackers (Tas Training)

Training Kit (Dokumentasi photo, Blocknote, ATK, etc)

2xCoffe Break & 1 Lunch, Dinner

FREE Souvenir Exclusive
Jadwal Pelatihan masih dapat berubah, mohon untuk tidak booking transportasi dan akomodasi sebelum mendapat konfirmasi dari Marketing kami. Segala kerugian yang disebabkan oleh miskomunikasi jadwal tidak mendapatkan kompensasi apapun dari kami.
Technorati Tags: training talent managemen berbasis nlp pasti jalan,training melakukan seleksi dan wawancara berbasis talent dan kompetensi pasti jalan,training listening,questioning & summarizing skills in competency interview pasti jalan,training psychological aspects of competency interview pasti jalan,pelatihan talent managemen berbasis nlp pasti jalan,pelatihan melakukan seleksi dan wawancara berbasis talent dan kompetensi pasti running